Become a real chef!
Posted in Paris le 5 February 2023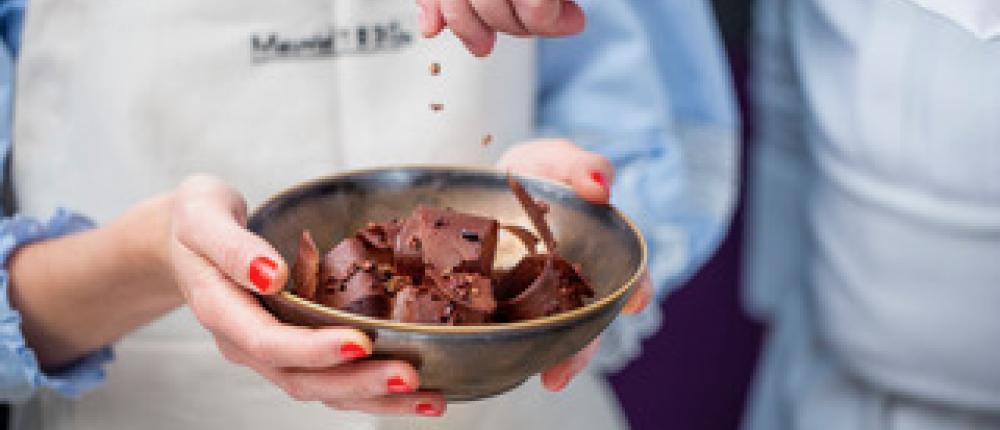 Become a real chef!
This month, we are pleased to introduce our neighbors and friends: ECOLE DUCASSE PARIS – STUDIO! We told you that our neighborhood was full of nuggets! Just a two-minute walk from the Beauséjour-Ranelagh hotel, in the same street, push the door of the school and .... discover this vibrant and contemporary place dedicated to the pleasures of cooking. Follow us, we invite you to get your hands dirty and become a real chef in the kitchen. Live a gourmet experience for everyone!
The stars of Ducasse
Alain Ducasse was the first chef to be awarded six stars. He has always conceived cooking as a way of sharing, a know-how to be transmitted, a moment of happiness that can only be experienced together. This cooking school, open to specialists as well as to gourmets and neophytes, was therefore completely in his spirit. Sweet, salty, cutting, wines, the offer of courses is varied, you just have to choose what tempts you among the courses proposed online, all led by great professionals and invited restaurateurs.
Gourmet stay...
For two hours or several days, you are bound to find the course that suits you: wellness cooking or charcuterie, dressing or oenology, juices and sauces, poultry cutting, pastry, shellfish or pizza... Hosted by great specialists in a friendly and professional setting, four rooms are equipped with professional quality equipment, you will enjoy this relaxed yet ultra-focused atmosphere. All you have to do is get started. Courses are also offered for our children and teenagers and also for companies who can organize a time of team building followed by the joyful relaxation of the tasting! very joyful indeed!
During your courses at the ECOLE DUCASSE PARIS – STUDIO, come and enjoy the comfort of the Beauséjour-Ranelagh hotel rooms. And to live your gourmet passion to the fullest, don't forget the hotel's sumptuous breakfasts, signed Philippe Conticini for the breads and pastries, Chambelland for the gluten-free breads with seeds or fruits, Jamets for the honeys and jams, Dammann for the teas and our organic Brazilian coffee roasted to order for us!
******
Photo: ECOLE DUCASSE PARIS – STUDIO
---
Hotel Beauséjour Ranelagh, a timeless and arty hotel in the 16th arrondissement